Are you interested in Pennsylvania politics? Do you care about improving our state democracy? Consider an internship with Fix Harrisburg.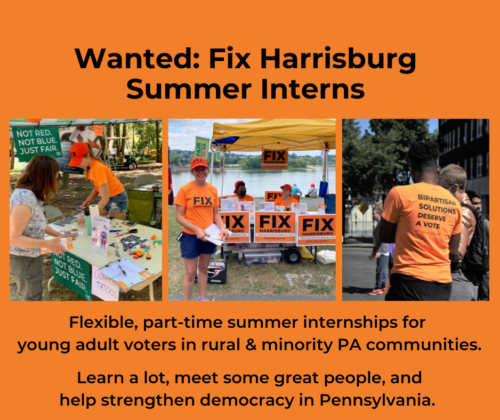 The Fix Harrisburg campaign is seeking paid, part-time summer internships to help with community outreach in rural PA counties or minority communities. Interns will collect Fix Harrisburg petitions signatures at fairs, festivals and community days in partnership with local volunteers. Reliable transportation is essential. Most work will be on weekends after initial training on Zoom, with occasional mid-week check-in meetings.

Fix Harrisburg is a campaign to change legislative rules that allow just a few partisan gatekeepers to block policy solutions sought by a majority of Pennsylvanians. Less than 1 in 5 bills introduced in Harrisburg are ever given a vote. Less than 7% of introduced bills are enacted into law. While many states have procedural rules that allow all legislators to represent their constituents, PA's rules put all the power in the hands of just a few legislative leaders and key committee chairs. Fair Districts PA (FDPA) and the League of Women Voters of Pennsylvania (LWVPA) launched Fix Harrisburg in spring of 2022 to build public pressure to change procedural rules in the PA legislature so bipartisan solutions receive a vote.
FDPA is a fiscal project of the League of Women Voters of Pennsylvania and a non-partisan statewide coalition of organizations and individuals working to end gerrymandering in PA. LWVPA is a nonpartisan, grassroots civic organization begun when women won the right to vote in 1920. With more than a century of experience, LWVPA has long advocated for fair elections and protection of constitutional rights. Since 2016 FDPA has advocated for an independent citizens redistricting commission in Pennsylvania. FDPA also works to build understanding of the PA redistricting process. With partner organizations, FDPA volunteers submitted sample maps, gave testimony and built pressure to ensure fair maps in the 2022 mapping process. While the resultant maps are far more fair than maps used in the past decade of elections, the process remains unchanged due to opposition from legislative leaders.
FDPA has grown quickly since its start in 2016 and has built a grassroots advocacy network across PA, with volunteers in every legislative district. Summer interns will help grow and strengthen that network in rural areas, minority communities and among young voters, while amplifying the "fix Harrisburg" message.
Position Expectations and Requirements:
The internship will consist of 8 to 10 hours per week for 14 weeks, June 1 through September 5, for a total of 125 hours and a total stipend of $2000, with half paid at the end of July and the remainder at the completion of the internship. Fix Harrisburg interns will:
Participate in virtual orientation and training in early June and weekly virtual check-in meetings with other team members.
Share information with the public at regional or local community fairs or festivals, beginning in June and ending with Kipona in Harrisburg on Labor Day weekend. Will need to be available for weekend events.
Visit local libraries, community centers, fire halls, and other local venues to place Fix Harrisburg fliers and posters in visible places for public outreach.
Take photos supporting the Fix Harrisburg Campaign and share on Slack
Take short videos supporting the Fix Harrisburg Campaign and share on Slack
Preference will be given to young voters from rural regions of the commonwealth and from underserved minority communities.
Fix Harrisburg interns should have the following skills and interests:
Ability to work independently in a remote team environment and access to reliable internet.
Physical ability to stand for long periods of time and carry boxes of materials across uneven terrain.
Strong communication skills and ability to grasp and share complicated information in a friendly, persuasive way.
Interest in PA electoral politics and in the legislative process.
A reliable means of transportation
Application:
Email your resume and cover letter to intern@fairdistrictspa.com by April 20, 2023
Positions will be filled as soon as possible, with a start date of June 1.