On September 22, the Senate State Government Committee reported SB 1242 from committee. This is an important step forward for the Legislative and Congressional Redistricting Act, LACRA, introduced in the senate by Senator Tom Killion.
The meeting was announced two days before and called from the floor during the afternoon senate session. After brief remarks by Committee Chair John DiSanto, Senator Killion explained the bill, several other senators offered comment, then the vote was taken, with 8 Yea Votes and 3 No.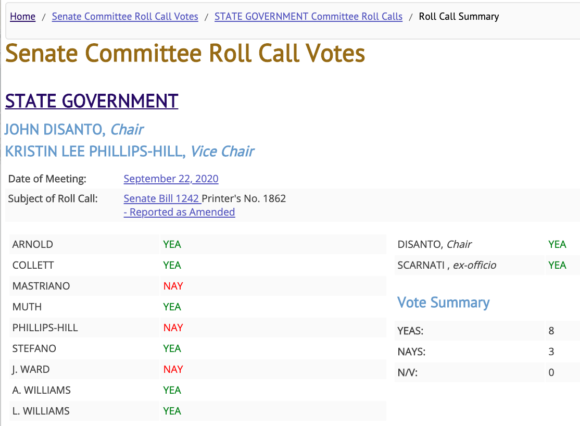 With little time left, attention now turns to asking Senate Majority Leader Jake Corman to schedule a vote in the senate, and asking all senators to offer their support. So far the bill has 7 co-sponsors, so it's important for constituent to reach out to senators with explanation and requests for support. Contact Senator Corman to ask "Give SB 1242 a vote"
Contact Majority Leader Corman
The House LACRA bill, HB 2638, was introduced last June by Representative Wendi Thomas and is still sitting in the House State Government Committee. It's been a year since the committee hearing on September 18, 2019, where Committee Chair Garth Everett promised more attention to redistricting reform. At the time he said
"This is just probably the first of a number of hearings that we will have over this session on the issue of redistricting."
He also said:
"I see today's hearing as the first step in our process of determining what if anything we need to do to improve our redistricting processes in Pennsylvania. As I always try to do, I'm going to go through this process with an open mind, and I'd ask the Members to do that also."
Nothing has been done in committee since then.
In a January 2020 interview, Rep. Everett said "I want people to have faith that the lines are drawn fairly." Surveys show clearly that is not the case.
As so often happens, House Speaker Bryan Cutler expresses willingness to give the bill a vote if it is reported from committee, while Rep. Everett has said, in another January 2020 interview, "I'm not anxious to do a heavy lift in committee only to discover that the lift was for nothing because it's never going to see the light of day on the floor."
Both need to hear from Pennsylvania voters:
We do not trust the current process, and their actions in this demonstrate the fact that gerrymandered districts remove accountability and make it possible for the PA legislature to ignore the will of the people. The PA constitution affirms the right of the people to alter and reform our government. Time is running out as we attempt to assert that essential right.