On January 31 Senate Bills 1022 and 1023 were introduced and referred to the Senate State Government Committee.
Senate Bill 1023, introduced by Senator Tom Killion, (R, District 9, Chester and Delaware Counties) would create an independent citizens commission to draw congressional districts while putting safeguards on the process for both congressional and legislative redistricting. SB 1023 is not a constitutional amendment and can be passed in this session, making possible creation of a commission before 2021.
Senate Bill 1022, introduced by Senator Lisa Boscola (D, District 18, Lehigh and Northampton counties) would amend the PA Constitution to give that same commission authority to draw the state House and Senate districts. In effect, 1022 piggy-backs on 1023 while ensuring that the proposed changes for congressional and legislative redistricting become part of the PA constitution.
The bills mirror the two bills/one commission solution Fair Districts PA has been supporting in the PA House since last April. While leaders in both houses have expressed willingness to consider these bills, introduction in the Senate brings greater attention to the issue and will further the possibility of passage by a late June deadline.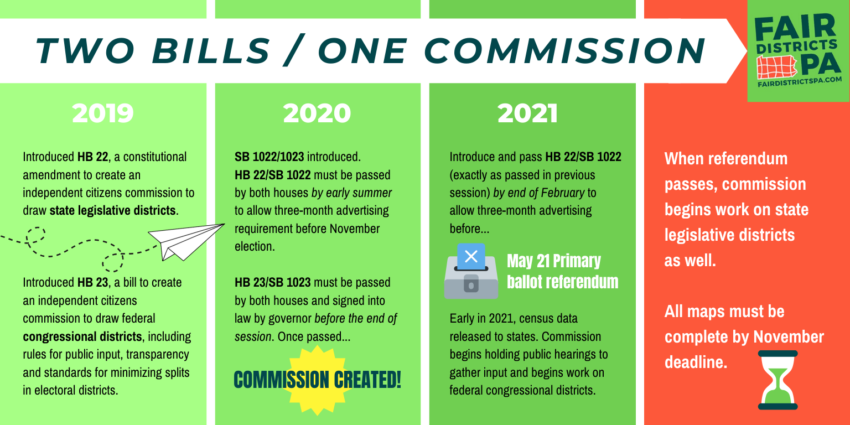 How can you help?
Contact your senators and ask them to co-sponsor BOTH bills.
Senate Bill 1022
Senate Bill 1023
And don't forget to check if your representatives have co-sponsored House Bills 22 and 23.
House Bill 22
House Bill 23
For contact info and more: Contact Your Legislator