2018 was a big year for Fair Districts PA and redistricting reform in Pennsylvania.

We informed the public
In the last year we helped host and lead 200 informational meetings, bringing our total of informational meetings to 600 since January 2016, with total attendance to date of almost 24,000 people.
Volunteers provided Know Your Maps displays in the Capital, talking to legislators, staff and visitors about distorted maps and our goal of reform. Others set up booths and displays at fairs and festivals, shared information at advocacy events and helped host mapping events with Committee of Seventy's Draw the Lines project.
We mobilized voters
Along the way we grew our local groups, each responsible for outreach to legislators, press and local governments.
Over 800 volunteers helped with election day outreach in polling places in every corner of the state, bringing our petition totals from around 13,000 to almost 60,000.
FDPA volunteers successfully promoted resolutions in support of reform, yielding resolutions from 269 municipalities and 20 counties, representing 6.9 million Pennsylvanians, more than half of the population of the state.
Volunteers wrote thousands of postcards and emails, made hundreds of phone calls and learned how to advocate in person by watching training videos created by other volunteers. Through that work, the bills we supported gained more cosponsors than any other bills in the 2017-18 session.

We shaped public discourse
In the past year, Fair Districts PA has been cited in numerous newspaper and media reports. Local group efforts were covered in national news outlets and even several international outlets. FDPA leaders have been interviewed and quoted in print and on broadcast media throughout PA. Despite predictions that the public would never pay attention, the issue gathered so much press attention that a network of media outlets formed an online page, Over the Line, to curate news on the issue and the efforts for reform.
Supporters have placed over 350 letters to the editor in news outlets large and small. In addition to detailed news coverage, media outlets across the state have written over 150 editorials, op-eds and columns about the work to end gerrymandering in PA.
We made our voices heard in Harrisburg
In April, we held a rally in Harrisburg, with buses arriving from all corners of the state. Some observers called it the largest in at least the past decade. Several hundred supporters met for informational sessions in the state museum, then over 600 gathered in the Capital rotunda, filling the central meeting space, the stairs and upper balconies.
In December, we gathered again in Harrisburg, this time for an all-day Reclaiming Our Democracy Town Hall in the state museum auditorium.
In between, FDPA supporters attended both House and Senate State Government Committee meetings, showed up in the gallery for key votes on the floor and learned to meet and explain our concerns with both legislators and policy staff.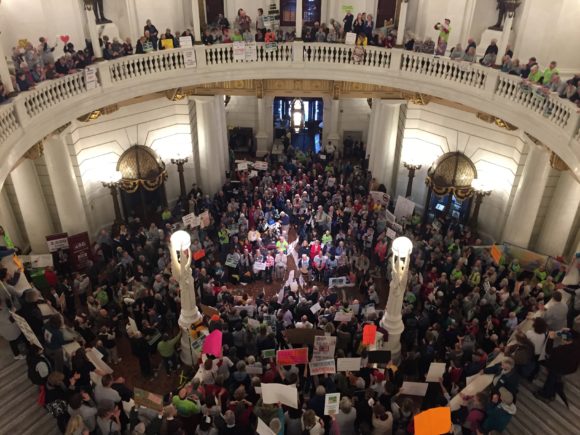 Informed, polite, relentless
A legislator recently expressed appreciation for the way constituents have shared their thoughts, answered his questions, and repeatedly asked him what HE can do to help the work of redistricting reform. He described Fair Districts PA volunteers as "informed, polite and relentless."
The more we learn, the more we see the impact of gerrymandering on our state and the more clearly we see the need for foundational reform. Thank you for your part in the work of 2018.
Join us as we continue the fight in 2019-20.