The new year began with Swearing-In Day in our state capital.
Around 30 Fair Districts PA volunteers scattered through the capital complex to share handouts and talk to representatives about the need for fair rules and fair districts.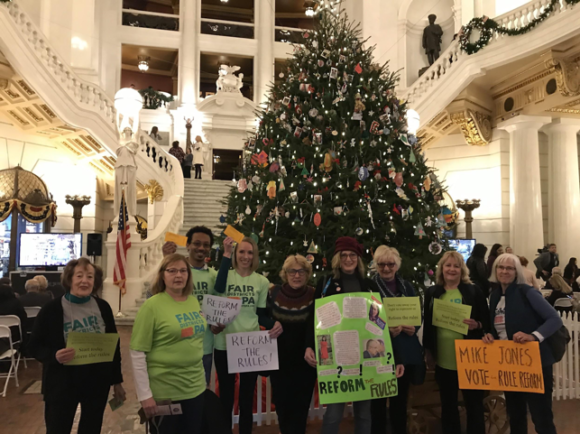 The votes on rules came just before 2 PM, after swearing-in, vote on speaker, introduction of majority and minority leadership, remarks from newly-elected Speaker Mike Turzai, Majority Leader Bryan Cutler and Minority Leader Frank Dermody.
The first vote was on Resolution 4, a repeat of Resolution 2 from 2017: a resolution to prevent amendment of House Resolution 1. Representatives Steve Samuelson and Bob Freeman urged their colleagues to allow opportunity for amendment and to vote NO on HR 4, but were voted down on almost a party line vote. (See the full vote here).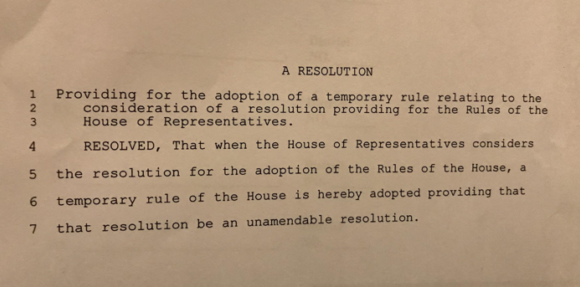 House Resolution 1 was then introduced. Representative Steve Samuelson made a motion to delay, answered by Representative Culter, who spoke against "temporary rules," and suggested that the rules themselves, once passed, are always "temporary," in that they can be altered. As Chair of the Rules Committee, he promised to consider changes proposed by colleagues.

The motion to delay was voted down, then House Resolution 1 was passed (full vote here). Representative Gene DiGirolamo then stood to say he would be offering a resolution to create a commission to study the rules, and Rep. Cutler again said he would be open to proposals presented to the Rules Committee.
Missing in the brief discussion on the House floor was any mention of several major new provisions included in House Resolution 1:
A new definition of sexual harassment and guidelines for oversight by the House Ethics Committee.
New rules expediting the process for removal of members convicted of a crime related to elected office.
While the rationale for these seems obvious, another raises questions about intent:
A new Government Oversight Committee, with subpoena power to oversee the executive branch of state government.
Other procedural changes:
An end to "ghost amendments," intended to bog down the amendment process.
Shortening of timelines for filing amendments and for final action on bills.
A decrease by two to all standing committees (from 16 Majority/11 Minority to 15 Majority /10 Minority) without attempt to balance partisan composition to more accurately reflect the composition of the House.
One technical rule in our list of proposed changes did make its way into House Resolution 1:
Unless otherwise specified in another rule, any rule of the House, which is not required by the Constitution, may be temporarily suspended at any time for a specific purpose only by a vote of two-thirds of the members elected to the House by a roll call vote. ADDED: If a rule requires a greater majority than a two-thirds vote of the members elected to the House to take an action, that majority greater than two-thirds vote of the members elected to the House specified in the rule shall be required to suspend that rule.
While we would have liked to see other proposed changes included in the rules, and believe legislators should have time to discuss and debate rules before voting on them in such a hurried way, we were thanked by incoming legislators for calling their attention to the issue and assured by long-time legislators that we've helped open an important, continuing conversation.
As we've learned by looking at the legislative process in other states, fair rules are essential to any attempt at reform.
Our resolutions for the year ahead:
We will continue to study best practices in use in other states and continue to urge consideration of rules to make our legislative process more open and fair.
We will continue work on redistricting reform. Look for news of bills to support very soon. Both houses reconvene on January 15. We hope to have bills ready to review and co-sponsorship memos ready to circulate by that date.
We will continue to grow a nonpartisan, grassroots, volunteer-led movement to reclaim fair representation for us all in Harrisburg and DC.