The conference kicked off with announcing commitments from Senators Tom Killion and Lisa Boscola to introduce PA Senate versions of House Bills 22 and 23.
Almost 200 Fair Districts PA volunteers and supporters gathered on November 16 in Harrisburg to hear speakers from across the country and the political spectrum at Reclaiming Our Democracy: The Conference to End Gerrymandering in Pennsylvania. Speakers included representatives from state and national organizations, a best-selling author, a senior fellow of a libertarian think tank, members of California's independent citizen's redistricting commission, redistricting experts, activists and advocates.
One big takeaway: FDPA is no longer a start-up. We're a strong, structured grassroots movement, ready to go the distance. Change is coming.

---
The first hour focused on conversations about redistricting issues from the past and in other states. Congressman Jason Altmire, representative for PA's 4th Congressional District from 2007 to 2013, discussed the ways gerrymandering discourages compromise and shared highlights from his book, Dead Center, about his time as a centrist in an increasingly polarized Congress.

Gerrymandering leads to gridlock, inability to compromise, outsized voices of the extremes.

Jason Altmire
Walter Olson, chair of the Maryland Redistricting Reform Commission and senior fellow at the Cato Institute, spoke about Democratic gerrymandering in Maryland and described occasions of "buddymandering": bipartisan collusion when drawing district lines. He closed with a reminder that for constitutional as well as partisan,reasons, all legislators should be working for reform that protects the interests of the minority
Three members of the California Citizens Redistricting Commission, Gil Ontai, Jeanne Raya and Andre Parvenu, shared stories about the ways redistricting reform in California increased voter trust and improved the state legislature's performance and approval ratings.
Reform led to more functional state government, more satisfied and engaged citizens, and fiscal surplus.

Gil Ontai​​
Jessica Jones Capparell, policy and legislative affairs senior manager with the League of Women Voters of the United States, discussed the People Powered Fair Maps initiative, the LWVUS nationwide effort to end gerrymandering through litigation, legislation and voter engagement.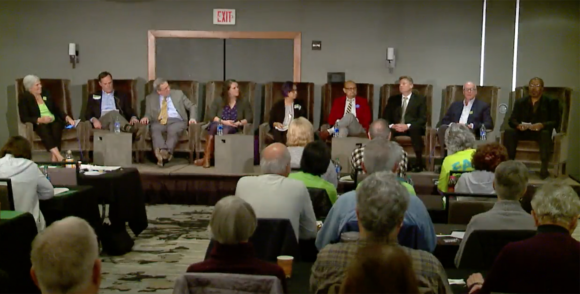 The second hour focused on Pennsylvania, and options for reform. David Thornburgh, president and CEO of the Committee of Seventy and chair of the Pennsylvania Redistricting Reform Commission, outlined input received from citizens that influenced the commission's report.
Who do Pennsylvanians trust to draw district lines? Most trust = independent citizens commission. Least trust = incumbent elected officials.

David Thornburgh
Carol Kuniholm briefly reviewed the history and status of House Bills 22 and 23, then the speakers from the morning sessions participated in a panel conversation about best practices in creating an independent commission. Highlights included Jason Altmire's insistence that legislators, no matter how well intended, will look first at ensuring their own safe districts so should not be part of the process, and David Thornburgh's description of the way Pennsylvania's local government structure ensures an enforceable proxy for communities of interest.

Two afternoon breakouts provided a variety of choices:
The Problem of Prison Gerrymandering and What We Can Do About It was led by Rory Kramer, associate professor of sociology and criminology at Villanova University and Sara Stroman, statistician, computer programmer and FDPA volunteer.
Effective Lobbying: The Advocacy Team Approach was presented by FDPA Advocacy Team members Mark Pavlovich and Tony Crocamo, who offered guidance on a non-confrontational, respectful approach to effective legislative visits.
Connect the Dots/Reform the Rules explored how the procedural rules in our state Legislature and the tight knot of dysfunction held in place by our redistricting process impede reform. It was presented by FDPA volunteer Rachel Sorokin Goff, former PA representatives Pat and Ed Krebs and Sara Steelman, Rabbi Michael Pollack and Carol Kuniholm.
Census 2020 featured Norman Bristol Colon, executive director of the Pennsylvania Census 2020 Complete Count Commission, explaining the census process and the need for assistance in ensuring underserved communities participate.
California Commissioners: Yes Citizens Can Draw the Maps highlighted members of the California Citizens Redistricting Commission, Gil Ontai, Jeanne Raya and Andre Parvenu, who shared their experiences and insights gained during the process to redraw California's voting districts.
Lean In, Learn More, Dig Deeper began with short presentations from FDPA volunteer Rachel Sorokin Goff, Stefanie Ostfeld of Global Witness, and Hope Johnson and Jason Rhode of the Princeton Gerrymandering Project. All shared ways volunteers can help dig deeper through research into the PA legislative process and the flow of money surrounding Pennsylvania's elections and Legislature, or by helping provide clean voting data for use in evaluating future maps.
The final hour of the conference began with a song: Yankee Doodle Gerrymander, accompanied by Centre County Coordinator Debbie Trudeau on her violin. Then David Daley, author of Ratf**ked: Why Your Vote Doesn't Count, shared highlights from his next book, Unrigged: How Americans Fought Back, examples of how grassroots movements like Fair Districts PA are battling to save democracy and protect citizens' rights.
Stephanie Ostfeld followed with an explanation of the work Global Witness does, exploring corporate capture of the political process. While the organization has historically focused on corruption in developing nations, they are turning attention to U.S. states with inadequate regulation of campaign funding or lobbyists. Pennsylvania will be of special interest.
Rabbi Michael Pollack, executive director of March on Harrisburg, shared reflections on the need to engage the other and work from a place of obligations, not rights. Carol Kuniholm then closed the conference with thoughts on the road ahead as we push to end gerrymandering in Pennsylvania.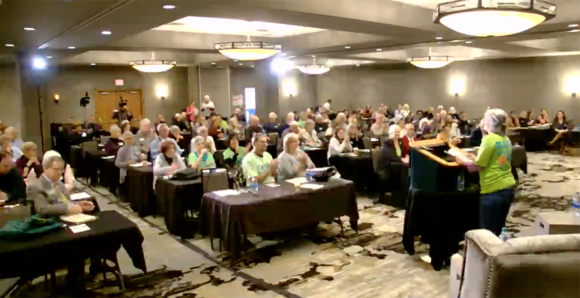 Throughout the day, speakers and sessions were introduced by volunteers from across the Fair Districts PA movement: local FDPA coordinators, members of the executive committee, enthusiastic volunteers. The conference itself made clear: Fair Districts PA has matured as a grassroots movement, with well-organized teams leading breakouts, managing administrative details and planning strategic next steps. While there are no easy paths to reform in Pennsylvania, informed, polite, persistent citizens, together, can reclaim the people power our PA constitution promises.