Today the Public Interest Law Center filed a legal challenge to Pennsylvania's gerrymandered congressional districts.
The lawsuit was filed on behalf of the League of Women Voters of Pennsylvania and individual plaintiffs from across the state.
Fair Districts PA is hopeful that the courts will invalidate what the General Assembly did in the last round of redistricting, in 2011, and provide clear guidelines for what constitutes fair redistricting as opposed to partisan gerrymandering.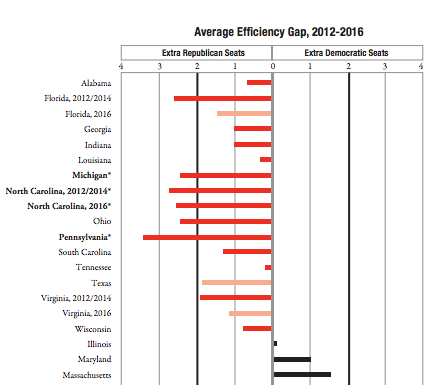 The League of Women Voters has actively protected the right to vote since passage of women's suffrage in 1920. For over two decades, in states across the country, League members have been studying, raising awareness, and battling gerrymandering with every legal tool available.

Why this case matters
The November U.S. District Court ruling in the Wisconsin case of Whitford v Gill raised the possibility of legal remedy here in Pennsylvania. By the standards used in that case, Pennsylvania's congressional districts are the most gerrymandered in the nation. 
The recent Extreme Maps study by the Brennan Center for Justice shows how far PA falls from a norm of fair elections, not just by the standard used in the Wisconsin case, but by other new approaches to measuring fairness.
Depending on the timeline of the case filed today, new, more fair maps could be in place by the elections of 2018 or 2020. We also welcome the opportunity for the public to see more clearly the intent behind our distorted maps.
Our larger goal: change the system that makes gerrymandering possible
While many portray gerrymandering as a game of red versus blue, Democrat versus Republican, we believe voters across the political spectrum are harmed when maps are drawn to protect incumbents and guarantee outcomes. 
With the League of Women Voters and the Public Interest Law Center, we are working on behalf of all PA voters trying to take back their democracy from political leaders who have hijacked it for their own benefit. Legal remedies may provide an important step in that process, but the ultimate goal for all is a level playing field provided by a non-partisan, independent citizens redistricting commission.