Fair Districts PA supporters showed up in large numbers for the House State Government Committee hearing on September 18, 2019. After a staff scramble to find overflow space, Committee Chair Garth Everett invited attendees to sit on the floor, stand in the back, or move to a training room nearby to watch proceedings on a large screen tv.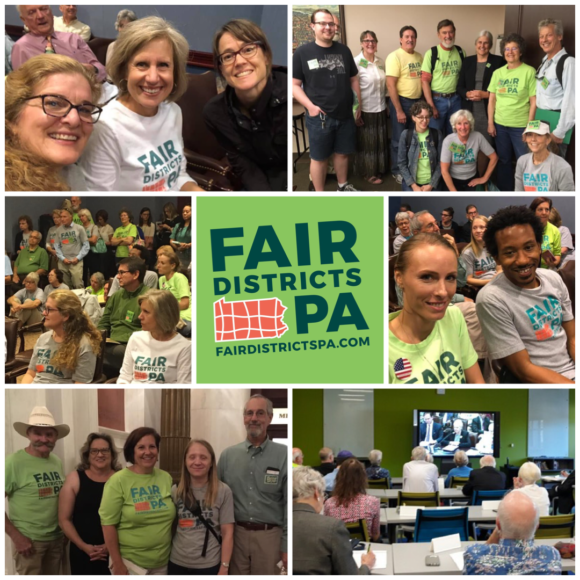 The meeting began with remarks from committee chairs. Rep. Everett called the meeting "the first of a number of sessions" on redistricting and promised closer attention to bills at a later date. Minority Chair Kevin Boyle shared his own frustration with gerrymandering and said, "this is the best attended State Government Committee meeting we've ever seen."

Ben Williams, Elections and Redistricting Specialist from the National Council of State Legislatures, provided a short overview of variations in redistricting process across the 50 states. Those variations can be seen on the NCSL website. As Rep. Everett pointed out, redistricting criteria claim several more pages on the same NCSL website.
Three commissioners from the first California citizens redistricting commission shared some of their own experience as part of that commission. Look here for a separate update about their visit and key takeaways.
FDPA Chair Carol Kuniholm called attention to the supporters gathered from across the state. She gave a summary of her own introduction to gerrymandering, then a quick sketch of the start of Fair Districts PA. She also explained the genesis of House Bills 22 and 23 in meetings with legislators, policy staff and advocates dating back to 2015.
Brian Gordon of Concerned Citizens for Democracy shared a mathematical process for redistricting, then David Thornburgh gave highlights from the Pennsylvania Redistricting Reform Commission's final report. The last speaker was Michael Watson, research director of the Capital Research Center, who suggested that proportionality and competitiveness are not reasonable criteria for redistricting.
Legislators asked questions for clarification and many shared their own concern about gerrymandered districts. Rep. Russ Diamond, R-Lebanon, suggested that the legislators who drew the lines in 2011 are no longer in office and asked "Why change the entire system? Why not just count on the new people that are here to do a better job this time?"
In her answer, FDPA Chair Carol Kuniholm pointed out that the League of Women Voters and other advocates asked in 1990, 2000 and 2010 that legislators follow constitutional requirements. Those requests were ignored and the districts were worse each decade.
Rep. Brian Sims, D-Philadelphia noted that PA citizens have asked for a remedy to gerrymandering for the better part of three decades. He asked "To what do you attribute our lack of movement on redistricting reform?" David Thornburgh's answer:
"The rules of the game by which your offices are determined and these districts are determined are one of the fundamental building blocks of power, in the commonwealth, in the general assembly, in the dance between the courts and the executive and the general assembly and that in a nutshell explains why it's so difficult to move change forward… . Maybe the short answer is change doesn't come easily in Pennsylvania."
Rep. Boyle thanked the advocates for their work and called the maps of 2011 a "disgrace" and "an affront to democracy." He concluded "It was good to see that the citizenry responded and I think in many ways it's surprising to many that such a dry issue as redistricting has become such a passionate issue to so many people… . This legislative body has to do better when we do redistricting in 2021."
Rep. Everett promised future meetings: "There's no set answer and no easy answer to how to do this and I look forward to working with the committee to work our way through this."