On March 27, Senate Bill 22 was considered in the Senate State Government Committee, along with three other redistricting reform bills.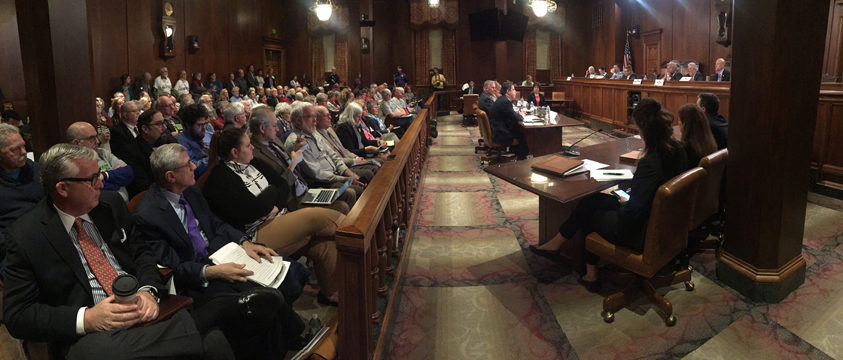 In a hearing that stretched to almost four hours, SB 22 received by far the most comment and discussion. Sponsors of two other bills, Senators Blake and Costa, expressed support for SB 22 and offered their own as backups if SB 22 is not passed through the legislature in time to be in place for redistricting in 2021.
HIghlights of the hearing included:
Senator Blake's expression of concern regarding the corrosive effect of politicians choosing their voters. He described his own bill, SB 464, as a bill in many ways similar to SB 22 except in the number and selection process of an independent commission and affirmed: "Sometimes change comes from the top down; sometimes it comes from the bottom up. This one comes from the bottom up."
Senator Costa described meeting with many constituents and receiving in excess of a thousand cards, letters and emails on the issue and observed that 13 of 16 Democratic senators support SB 22. He expressed an intent to add his name as co-sponsor to SB 22 and offered his own SB 767, legislation to create an independent redistricting commission only for congressional districts, as an alternative if SB 22 doesn't pass through the legislature in this session.
FDPA Legislative Director Pat Beaty described SB 22 in detail and made clear that our concern is with a fair, transparent process: "an independent commission will not be as biased or politically motivated as the General Assembly when they draw the lines."

FDPA Chair Carol Kuniholm made clear that redistricting reform will be an election issue. The question will be: "Does this body believe the state constitution, that we the people have the right to alter and reform our government, or does this body represent the party leadership who say NO?"
Senator Judy Schwank described the effort toward reform as "a major test of our democracy: how we respond as a legislature will be that test." She noted: "leadership is elected by a small group of people, yet they have a huge impact across the state." She commended FDPA for insisting on permanent reform in the shape of an independent redistricting commission, despite the lawsuit and subsequent new congressional map, and concluded "This is the change we need."
Minority Chair Senator Anthony Williams emerged as a champion of reform, insisting that while all of life is political, it's possible to find solutions to a situation that is "clearly out of control." He emphasized the political and demographic diversity of Fair Districts PA and remarked: "Your organization represents the best of what we want our citizens to do." He described the hearing as a significant event and affirmed that the legislature could pass reform quickly if "information rather than ignorance" drives the conversation.
There were many good questions and comments from all senators in attendance, with suggested improvements or additions to be considered as the bill moves forward.

Committee Chair Senator Mike Folmer mentioned more than once that he voted against the congressional map back in 2011.
Our next step is to secure a commitment from Senator Folmer to schedule SB 22 for a committee vote in the month of April, followed quickly by approval by the full Senate.
A video of the full hearing, as well as links to written testimony, are available here. Testimony by Carol Kuniholm begins at 2:26, followed by Pat Beaty and questions directed to both FDPA representatives for the remainder of the hearing.