Fair Districts PA set out to walk our talk. We have worked together with people and organizations across PA to create maps that represent the people and communities of our commonwealth.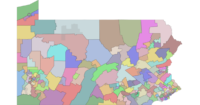 See our final maps for the PA House.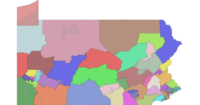 See our final maps for the PA Senate!

Curious About How This Came to Be?
We've done our research, included local voices from all parts of PA, and have submitted the maps to the Legislative Reapportionment Committee for their consideration. Learn more about how we made the decisions we did.

Curious about why a line was drawn the way it was in the People's Maps? Our FAQ covers the nitty-gritty.

Want to compare your current district with FDPA proposed districts?
Pennsylvania. Redistricting and You
Compare your own district on the current PA maps and the FDPA proposed People's House & Senate Maps or Draw the Lines' Citizens' Congressional Map. When the Legislative Reapportionment Commission and General Assembly share their maps they'll be added. Choose maps to compare on left, then toggle the central slider to show current, proposed, or both maps at once. Click on a location to compare current and proposed districts.